SimLex Sales System modules Figure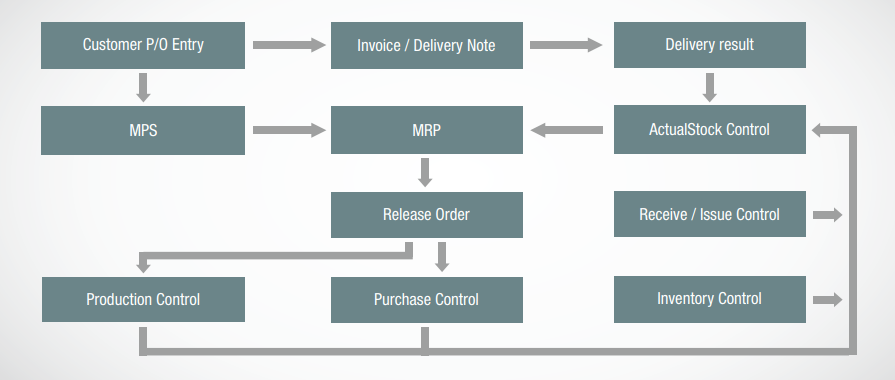 Download SimLex Sales System catalog
 Functional overview of SimLex Sales System

Sales system is sales Control and material planning schedules(MPS)、Material Requirements Planning(MRP)、Purchase Management, and Inventory control.
The process of managing sales beginning create the Quotation→customer's P/O input→Delivery Note→Delivery result→Invoice input一in another of purchase management are includes P/O input→P/O printing→material receive entry→Invoice Entry一purchase remaining order processing.
the inventory management、the process of products received into inventory stock by location、Actual stock, It supports to Lot control of products receiving and issue.
P/O entry of purchase order and subcontract products is automatic issuance from advanced MRP,You can be operated to customer requirement by manual input.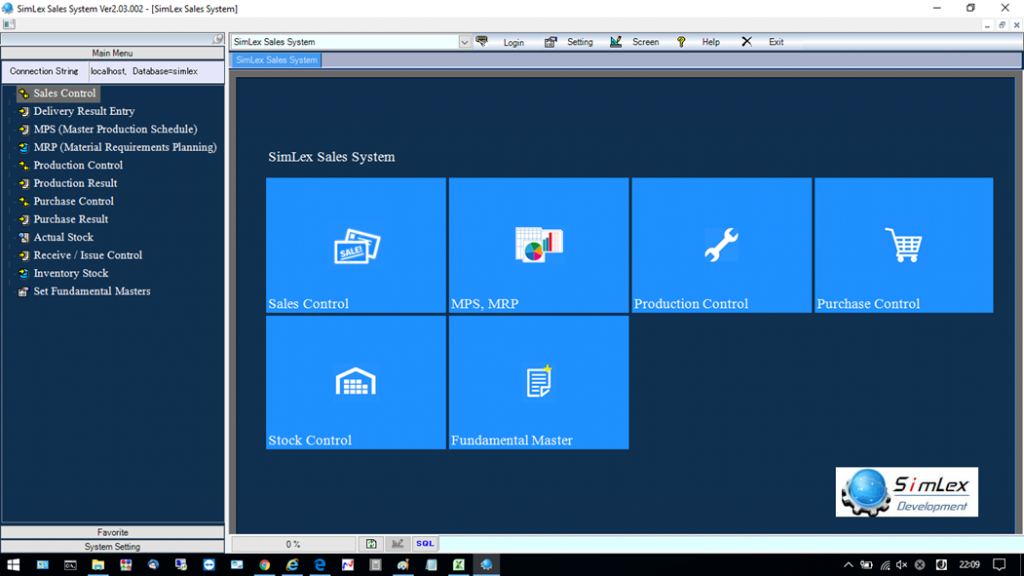 Functional overview of SimLex Sales Control
Users can operate easily, because Sales System is made as standard Sales System.
Japanese or local staff can use easily,because SimLex Series has Menu of same business flow.
  Sales Control
Basic business flow is Quotation→customer's P/O input→Delivery Note→Delivery result→Invoice input. Customer P/O and Invoice are needed to Approve.
  Purchase Control
Basic business flow is P/O Entry / Report→P/O Approval→Received Result Entry→Supplier Invoice Entry→Invoice Approval.
Production
Basic business flow is Release Order after MRP or Additional Order→RM Picking Result Entry→Production Result Entry.
Sales Control
Customer P/O input,P/O confirmation and confirmation report.
Issue local invoices and Export invoices.
Trade condition for standard export invoices has CIF,FOB,C&F,DDP and DDU.
Issuing export invoices And picking document.
Shipping to both domestic and international.
The deposit input, Debit Note and Credit Note
Issue quotations.
P/O,Invoice approval
Customer specific for sales performance by classification large/middle/small.
Bill Of Material(BOM)
Monthly progress,Monthly Schedule and weekly Schedule.
Material Planning Schedule(MPS)
From customer P/O, and lot split, if necessary can change the delivery date and quantity.
The unofficial data of customer can always be changed.
Display inventory from the production planning.
Material Requirements Planning(MRP)
Standard production planning can calculate Materials requirement every time.
Normally the inventory used to MRP can support with serial numbers.
The period for delivery can assign to the official and unofficial.
Maximum required will calculation period is one year.
You can calculate the time and production processing at the same time.
Effective stock checking by MRP simulation.
Production Control
Edit the production instruction of automatic calculated order or hand entered the order from the MRP.
The input to production can be used barcodes. all data sequential from order.
Input and editing functions of the Defective.
Actual production input can be separated to production by order and production number.
Identification Tag ,slip and Picking List Printing.
Display of the lot trace during production work in process.
Inputting P/O and Invoice approval.
Purchase Control
Edit the automatic calculated order or hand entered the order from MRP.
Issued P/O and printing order to suppliers.
P/O input can supports the barcode system available.
Purchase Advance,Debit Note and Credit Note
Tag printing/Order remaining schedule/Raw material receipts schedule.
Import duty of overseas purchase
Display Lot Trace of purchases.
P/O,Invoice Approval.
Recording suppliers and end users can divided by suppliers group.
Actual Stock
Actual Stock by Location, the days of stock-in and stock-out and stock value.
Actual stock by Item, stock value, quantity of purchase order(include Safety Stock).
Display balance of inventory by actual stock.
Receive / Issue Control
Standard warehouse processing,Enter product receiving into warehouse.
Stock movement processing, moving between location.
Stock transfer processing,Enter the material transfer between locations.
Display of stock movement and stock transfer result.
Display of loading history.
Inventory Control
The creation of inventory in each location.
Edit the inventory data created and creating monthly inventory to be actual stock.
Display monthly stock.
Fundamental Master
Calendar,Country,Currency and Rate,Tax Master.
Payment terms master,Bank Master,Customer's bank master,Company master,Customer master,Supplier master.
Person Master,Warehouse master,Area master,Location master,Classification master.
Process master,Equipment master,Quality of Defective Master,BOI Master.
Production Item Master, Purchase Item Master,Subcontract Master,Model Master.
Structure master,Structure Display,Price master,Category master.