Download SimLex WMS Catalog
If you can connect even WIFI, you can use even in the cloud environment or your own server.
Actual result processes are Production Result, Delivery Result, Purchase Receive Result, Receive / Issue Result with SimLex series.


SimLex Warehouse Management System (WMS) summary
Warehouse Management System (WMS) is a software that has been made for the warehouse industry only.
Stock in process, Stock input → stock performance input → warehousing instruction input → warehousing performance input process, in Picking and Delivery process, Delivery input → picking instruction input → picking track record input → Delivery Result input processing is possible.
In inventory management, inventory stock processing by location, currently in stock, also supports Receive and Issue Control, capable to specific a Lot in inventory. Calculating costs such as storage charges, Issue costs, Loading and Stuffing cost.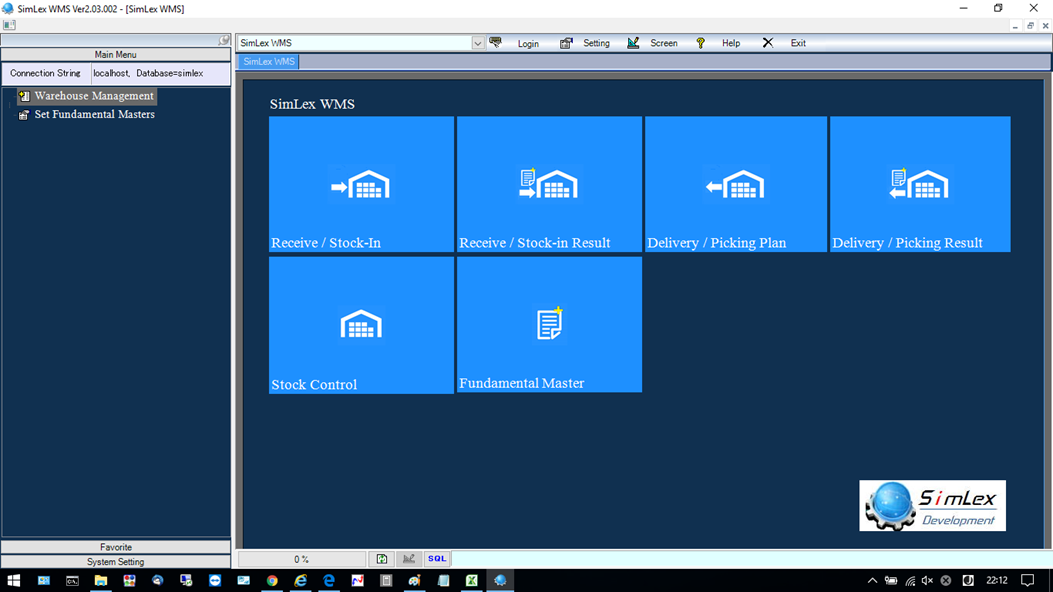 Receive Control
・Each user enter the goods receive and edit.
・Possible receive record input the bar code reader using the USB connection.
・Can Goods receive record input using wireless LAN connection bar code reader as an option.
Issue Control
・enter and edit goods issue. By appointment from customers
・Issue a goods with a bar code on the basis of goods issue instructions.
・Can goods issue record input using a barcode reader USB connection.
・Can goods issue record input using wireless LAN connection bar code reader as an option.
Actual Stock
・Location by the current stock, the day of loading and unloading number, displays a stock value.
・Actual stock by Item,stock value,quantity of purchase order( Safety Stock).
Receive/ Issue Control
・In standard warehousing processing, enter the warehousing information.
・Hand to standard retrieval operation, Enter the outgoing information.
・In stock movement process, enter the movement between locations.
・Display of the stock movement record.
・Display of the loading and unloading history.
Inventory Control
・Location creating inventory for each data .
・Edit the inventory data, create a reflection and monthly inventory to the current stock.
・Display monthly stock
Monthly billing
・Monthly storage fee, Create a fee specification to calculate the loading and unloading charges, such as in the PCS, M3, KG.
・As loading fee to the track, Loading costs, create a fee specification as Staffing costs.
Fundamental Master
Calendar,Country,Currency and Rate,Tax Master.
Payment terms master,Bank Master,Customer's bank master,Company master,Customer master,Supplier master.
Person Master,Warehouse master,Area master,Location master,Classification master.
Process master,Equipment master,Quality of Defective Master,BOI Master.
Production Item Master, Purchase Item Master,Subcontract Master,Model Master.
Structure master,Structure Display,Price master,Category master.