How should business software be customized?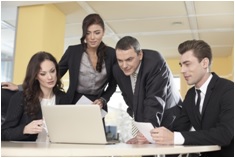 What kind of process causes customization?
The first thing that comes to mind are the Reports. At least Invoice, Delivery Note, Credit Note, Purchase P/O, etc. are required.
If the proper nouns are industry-specific and different from those in general-purpose software, each user wants to customize the proper nouns. Also, we would like to add items to various masters and business processes.
When connecting with other software, it is necessary to customize the interface to connect between the software.
Other examples include EDI intake and adding processing that is not available in the general-purpose software.

◆Advantages and disadvantages of customization

Advantages of Customization

The user's existing operations can be relatively unchanged.
In special industries, customization is the only option. Often for individual orders.

Disadvantages of Customization

Difficult to upgrade the entire software version.
If the user or vendor personnel or Japanese personnel change, the entire customization cannot be understood and maintained.
Customization is expensive and time-consuming. (about twice as much as non-customization)
Customization itself entails considerable risk.

The biggest problem with the disadvantages of implementing customization

In general, customized software is usually not upgradeable. What this means is that the software becomes obsolete from the time it is customized. The main software before customization is constantly being improved, but the benefits of this improvement are not available.

The main problem overseas is that "if the user or the vendor or the Japanese person in charge of the customization changes, the entire customization cannot be maintained. This is a big problem overseas. Software that can no longer be maintained means that its life as software has come to an end. Vendors need to manage customization by user, and it is difficult to know the status of customized software, even if the new version allows for the same process, which causes confusion in maintenance.

Then, without customization, the business cannot be implemented. What to do about it is the next topic.

Means to overcome the disadvantages of customization
     
Practical examples of customization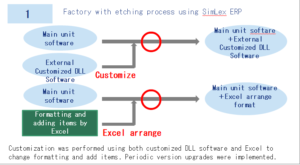 Status of customization in SimLex software
SimLex software is divided into ERP, production management system, sales management system, inventory management system, and accounting software, and the customization rate is as follows
Format changes and addition of items by Excel 142 companies (100%)
External customized DLL software: 6 companies (4%)
The reason for the low level of customization using external DLL software is that SimLex itself can be customized without programming by setting parameters for each industry.
Toshio Koga, SimLex Developmet Co.,Ltd.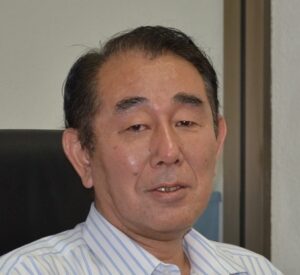 After graduating from Kyushu University, he worked for a major bearing company and experienced process design in the production technology laboratory. After that, he established SimLex Development Co., Ltd. in Thailand, where he has been developing and selling ERP, production management systems, and accounting systems from zero-based systems up to the present.